IT'S not Monaco, the Nurburgring or even Oran Park – this racetrack is NSW's best-kept secret.
The privately owned road in Kulnura, on the Central Coast, is a 5.1km Formula One-style track with 22 turns, described by one motorsport champion as the second-best track in the world.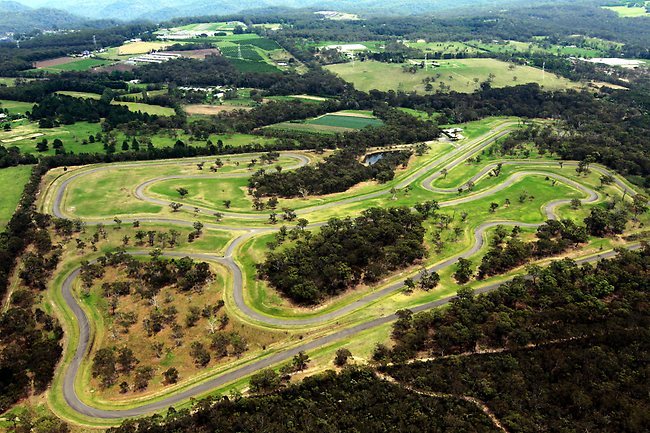 The track, which is said to have cost $10 million, was built by car enthusiast and former Coca-Cola Amatil boss Dean Wills after he lost his licence for speeding on the old Pacific Highway in 1996.
Mr Wills wanted to enjoy his growing fleet of exotic cars – which included the only McLaren racing car ever sold privately – without having to worry about oncoming traffic.
His son Mark said the track was motivated by a lack of opportunity for "spirited" driving in a safe environment.
"In the early days it was possible to wake up early on Sunday morning and go driving," he said.
"It was becoming increasingly less safe so we really needed somewhere we could go where we wouldn't get into life-threatening situations.
"Safety was the most important thing, to be able to enjoy driving in the way manufacturers designed the cars to be driven without on-coming cars or cyclists.
"We don't do lap times, the only way we measure it is how long the smile lasts."
While from the air it looks every bit a hair-raising speedway, Mr Wills said it was deliberately built as a country road, without a race track's ripple strips, barriers or gravel run-off areas.
Guests have to adhere to strict road rules including "no racing" and it even features standard road signs with recommended corner speeds.
"It never really entered our minds to create a race track, we just wanted a country road to drive on."
Mr Wills would not reveal how much the family had ploughed into the road but a conservative estimate of about $60sq m for the bitumen alone puts the 40,000sq m of circuit at $2.4 million.  Getting to race on the track is akin to joining the mafia – someone has to vouch for you.
"It's all friends of friends," he said. "We know the people who are inviting (other people) here and we trust their judgment."
Those who have done a few laps include motorcycle champion Casey Stoner, the "Flying Scot" Sir Jackie Stewart and Formula One great Jack Brabham.
Mr Wills said Wayne Gardner described the road as his second favourite circuit in the world behind Suzuka in Japan.