A new Apollo has been teased for some time now, with an announcement in October 2016 that something would be coming, before video of the new car was leaked to us earlier this month. Today, Apollo finally unveiled the new IE in all of its naturally aspirated glory, and it looks pretty sharp. Literally.
The IE stands for Intensa Emozione, Italian for, you guessed it, intense emotion. Apollo says the car was created from a "blank sheet of paper." Under the hood is a 6.3-liter V12 that generates a claimed 780 horsepower and a top speed of 208 mph. We can assure you, it sounds exhilarating.
The car has a six-speed sequential manual transmission, with adjustable gear ratios and paddle shifters. (You can also go in reverse.) It's got a curb weight of 2,755 pounds, made possible in part by its carbon-fiber frame. At its lowest, in certain driving modes, parts of the car are just over two inches off the ground.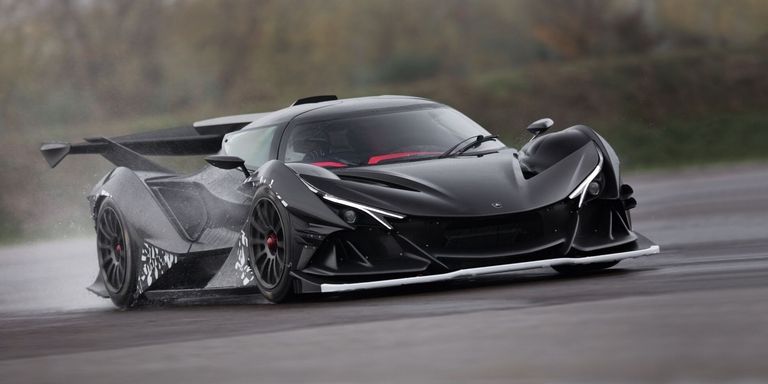 Here's the specs:
0–60mph — 2.7 seconds
Weight — 2756 pounds (1250kg)
6.3-liter V12 (naturally aspirated)
769 Horsepower
561 pound-feet torque (760nm)
Revs upto 9000rpm
Sadly, only 10 are planned to be made and it starts at around $2.7 million. . So unless you're Batman, you might have a hard time getting one.